"A human being should be able to change a diaper, plan an invasion, butcher a hog, conn a ship, design a building, write a sonnet, balance accounts, build a wall, set a bone, comfort the dying, take orders, give orders, cooperate, act alone, solve equations, analyze a new problem, pitch manure, program a computer, cook a tasty meal, fight efficiently, die gallantly. Specialization is for insects."
-Robert A. Heinlein
my niece and me – 2011
I am a passionate and eclectic researcher trying to think and act beyond his field by taking inspiration or collaborating with other domains. (exploring the concept of 'horizontal' career vs. a vertical one
My research background is in artificial intelligence but I had the chance to explore and work in various great universes inside small teams or large projects (EU research projects), at the University of Bretagne Sud (Artificial Life/ Robotics), at the University of Sydney (education / datamining), INSEAD (attention economy / social web), Sony Computer Science lab (Sustainability / City / Participatory Sensing), French Spatial Centre (Aerospatial / Security), University of Geneva +United Nations Institute UNITAR + CERN (Humanitarian/ Citizen Science / CrowdSourcing), ENSAD aka 'Art Deco' (Digital Art), CSIC Institute of Public Goods and Policies+ European Science Foundation (Econometrics). More recently I worked at INRIA/Ecole Normale Superieure (ENS) (Digital humanities / Quantitative Urbanism / Computer VIsion). I also cofounded or joined startups in Media, E-health and Social Networking+Data analysis, and even worked in a marble factory! Recently I was an award winner of a french contest for supporting the emergence of innovative companies (OSEO / BPI) and got some public foundings to create cityscoring.com, my new startup.
n.maisonneuve@gmail.com
Linkedin profile
@nmaisonneuve
Current Interests:
Collective problem solving, Collective Intelligence, CrowdSourcing, DIY, Citizen Science, Participatory design, Social Computing and the design of eco-systems mixing group of machines and human/expert to co-work/solve/create.
Artificial Intelligence, Datamining
Physical world, Sustainability, City, Architecture, Sensor
Digital humanities
Exploring new territories, Randomness, Creativity , Serendipity, pluridisciplinary e.g. mix of Science, Technology and Design
Longer bio: Pluridisciplinary Walk in the expending Univers of Computer Science
My original background is in Computer Science and especially Artificial Intelligence (Machine Learning, Statistics, Datamining, Artificial Life). I started to work on related projects (e.g. robotics, search engine, multi-agent systems) in different labs in France.

University of Sydney, Australia
2005-2006. Then I decided to move to real intelligence: people. In I joined the University of Sydney as research assistant, working on E-learning and social computing to integrate social aspects and datamining technics to understand how students work/collaborate together (discovering good/bad practices) in the digital world and use it as a reflexive tool to improve their behavior.

INSEAD campus near the Fontainebleau Forest, France
2006-2007. Back to France I joined the Institut europeen d'administration des affaires (INSEAD) as research associate in 2007, 'behind the enemy lines' , a fresh air outside pure computer science world. I joined a EU research project working on collective attention management & attention economy in the digital world. An emerging concern for the XXI century.

Playground for the Aibo at SONY CSL
.2008- 2009. I moved to the SONY Computer science laboratory, an interdisciplinary lab with an artistic culture, as associate researcher in the Sustainability group. I led a research project investigating a new participatory sensing infrastructure to empower the public in the management of the commons in the physical world, extending my view with environmental, geographical and policy perspectives. (e.g. I developed noisetube.net, a successful participatory platform to monitor and map noise pollution using mobile phones as sensors). I also managed the Sony's part of a EU research project on Social Tagging in online communities.

me near a detector of the Large Hadron Collider, CERN
2011-2012. To continue this scope of research on social computing and collective intelligence, I worked in a new program, the Citizen CyberScience Centre, a parternship between the CERN, UNITAR and University of Geneva. I investigated different Crowd Sourcing models to better understand how to organise the massive participation of non-experts in the analysis of satellite imagery (e.g. damage assessment after a humanitarian crisis) to collectively get high quality data.

CSIC Institute of Public Goods and Policies, Madrid, Spain
To change of field without really changing, I also won a short visit grant (2012) from European Science Foundation to work in the economics field at CSIC Institute of Public Goods and Policies. My idea was to improve the reliability of metrics to assess innovation in EU, especially tackle the "Name Game" issue by exploring a crowdsourcing approach. the experiment is still running.

Canal Saint Martin, Paris
2012 – I then came back to Paris and worked as visiting research engineer in a Paris/San francisco based startup called Fanzy, exploring gamification & engagement mixed with Big Data analytics for a Facebook App.
Meanwhile Since I love learning, I completed successfully my first diploma on the Massive Open Online Course coursera.org about a 6-week course on Gamification given by Kevin Werbach with a product/marketing perspective (how to integrate game elements in a process to encourage certain behaviors).

old picture of Place d'italie, my new office
2013 – I joined the Willow Projet team (ENS/INRIA) to work on a pluridisciplinary projects with Architecture Schools mixing Computer Vision / AI. and digital humanities / City / Architecture.

---
workshop at the design school ENSAD (aka 'Arts Decos')
2010-present. I alo maintain links with artists/designers. I collaborate with professors at ENSAD and at the University Paris 8 on a set of projects (e.g. 2010 – random GPS, PotentialCity, perceptual maps, documentary film 'Cyborg in the myst' ). In apr 2012 I co-organized a 1-month workshops at ENSAD with 1-year students about the mix CrowdSourcing and Art.

---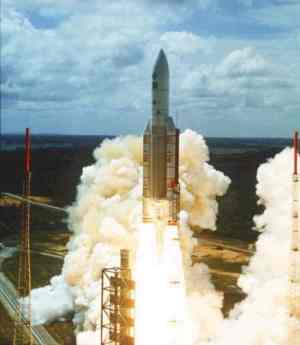 launch of Ariane5 at French Spatial Centre, Kourou, French Guyana
My experience is not purely academic or related to research. when I was student I had experiences in industry: 2000 – internship in Aerospace at the French Spatial Centre (Kourou, French Guiana) watching one of the first launches of Ariane 5 (wonderful!) and in a marble works for several months as consulting.
As entrepreneur I was the co-founder of 'aucine.com' in 2000-2001, one of the first VOD service in France with a catalog of 500 movies and a digital right management, a teaser in Flash for each movie (remember we were in 2000). While the technology developed was great, investors quite interested, the marker was not enough mature and the dot.com bubble was just right at the corner.
In 2005 some friends from a business school and me launched of healthcare web service called 'mondoc.fr' for patients & doctors to facilitate the management of appointments via SMS and Internet. We won 2 awards but the project was aborded because we both did not have time to really focus on it. In 2010 I was also self-employed working on artistic projects.

---
Speaking
Here is a list of talks in conferences, invitation in public events or press coverage:
Future en Seine / Inria (2013)
Seminar Motorizing Architectural Paradigms / Ecole Speciale d'architecture ( 2013)
Festival 'Design, Poverty, Science Fiction' at Grand Hornu/Belgium / Ecole Nationale Superieure d'Arts decoratifs ( 2013)
SoData /Scientific Open Data – IGN ( 2013)
Workshop for CitoyensCapteurs / StrateCollege (2013)
Talk at INRIA/ENS ( 2012)
GISScience Conference (2012)
Citizen CyberScience Summit (2012)
2062- Gaete lyrique (2012),
UNITAR Traning session (2011),
TelecomParisTech (2011),
Swiss Tropical and Public Health Institute (2011),
African Institute for Mathematical Sciences (2010),
Synesthesie atelier (2010)
R&D Renault Center – Carrefour des Possibles "mobilites durables" Contest, (2010)
Exhibition in Saint-Etienne International Design Biennial, (2010)
Science Illustrated (DK) – (2010)
France 2 TV, TeleMatin interview (2010)
BBC TV, Click online , February (2010)
NZZ Folio Journal, Wünschelrute mit GPS (in German) (2010)
New Scientist magazine,(2009)
Le Soir Newspaper, Quand le telephone traque le bruit. (2009)
Popular Mechanics magazine (2009)
SONY Open House Lab, Oct. (2009)
Java.net, Did you Mean Lucene, Aug (2005)

---
International publications
Here is a list of academic publications written when I am in an environment open to such productions (See my Google Scholar profile. Lots of stuff are not published lack of time/resource, however I sometime create a post on my blog.
Urbanism / Architecture
Linking past to present: Discovering style in two centuries of architecture – IEEE International Conference on Computational Photography (ICCP) (2015)
Organizational behavior / Crowdsourcing / GIS
Maisonneuve N, Chopard B (2012) Crowdsourcing Satellite analysis: study of parallel and iterative models", GIScience 2012, Columbus, Ohio, USA. paper here
Sustainability / Participatory Sensing
Maisonneuve N, Stevens S. and Ochab B. (2010)Participatory noise pollution monitoring using mobile phones. Information Polity Journal. more publications on the noisetube.net project here
N. Maisonneuve et al. (2009) « NoiseTube: Measuring and mapping noise pollution with mobile phones". International Symposium on Information Technologies in Environmental Engineering.
I. Krontiris and N. Maisonneuve, (2011) Participatory Sensing: The Tension Between Social Translucence and Privacy, " Book chapter in Trustworthy Internet, ,pp. 159"170
Social computing
Passant, A., Mulvany, I., Mika, P., Maisonneuve, N., Loeser, A., Cattuto, C. and Bizer, C (2008) « Mining for Social Serendipity. In: Dagstuhl Seminar on Social Web Communities
N. Maisonneuve (2007) « Application of a simple visual attention model to the communication overload problem» AMUCE Workshop, 9th International Conference on Ubiquitous Computing.
Learning / Attention Economy
T. Nabeth, N. Maisonneuve (2009) Managing Attention in the Social Web: The AtGentNet Approach, Book Chapter of human attention in digital environments", Cambridge Press
T. Nabeth, H. Karlsson, A.A. Angehrn, N. Maisonneuve (2008); A Social Network Platform for Vocational Learning in the ITM Worldwide Network; IST Africa 2008, Windhoek, Namibia
Teamworking / Datamining
J. Kay, N. Maisonneuve, K. Yacef and P. Reimann (2006) « The Big Five and Visualizations of Team Work Activity » Conference on Intelligent Tutoring Systems.
J. Kay, N. Maisonneuve, K. Yacef and O. Zaiane (2006) « Mining patterns of events in students' teamwork data ». Educational Data Mining Workshop, ITS'06.
J Kay, N Maisonneuve, K Yacef, P Reimann (2006) « Wattle Tree: What'll It Tell Us » University of Sydney Technical Report
C. Collins, P. Goodyear, J. Kay, N. Maisonneuve, P. Reimann, M. Weinel, and K. Yacef. Adaptive visualisation support for self-managed learning groups, college of science and technology teaching and learning showcase, groupwork poster, 2005
---
Open culture / Hacking
I contributed a set of open source projects (e.g. n-gram spell-checker of the most popular open source search engine – Lucene). In a previous life I cracked software in a group called 'French CrackForce 2000′, and was a phreaker. My passion in technology / computer science was transmitted by my dad, enthusiasm, a white hat hacker in electronics in the 70/80s and with who I played Lego a lot! thanks dad
---
Beyond computer

Sometime sculpting Clay (2012)
Sometime just playing (7 floors, Yoohoooo!) (2008)
or hiking with some friends (2009)
or doing some stupid basic magic tricks (2010) (sorry for the music in the background..)